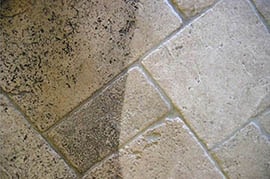 About A Accredited Restorations
A Accredited Restorations Is Your Indoor-Outdoor Surface Restoration and Maintenance Specialist. We Provide Free Estimates To Residential And Commercial Customers.
---
After working part time for almost 2 years as a helper in this field, I started my business in October of 2008. I'm Russ Buck, owner of A Accredited Restorations Inc. "Your Indoor Outdoor Surface Specialist". Thanks for taking a moment to explore a little about us! There are a couple of things I feel are important for you to know about me - I'm a perfectionist who love's what he does! I take great passion in my work and want to build a legacy for my family so this drives me to always give the best floor care experience you have ever had. Combining that with unbelievable results has enabled me to build my business from word of mouth.
With my company you are offered complete surface restoration services, not just carpet or tile cleaning. Chances are no matter the substrate inside or around your home, we can help you with that. You may not know but all equipment in the industry is not capable of performing such duties so this means there is a difference out there. Our truck mounted equipment is among the largest commercially produced while using the highest quality attachments and chemicals. We require more power because we deal with situations your average floor care company does not.
In our services you will see things your other local companies do not offer and in the special requests category it can get even better! Since this is a finishing type of business driven by results, prices are never affected by time. We only charge for doing what you request the right way. Never is work commenced unless we have walked through your service completely no matter how basic it may be and we'll even teach you how to see us less. Depending on the service, warranties can be provided and we never charge to set an appointment so give us a call now!
Our Mission
Our mission is to provide the highest quality floor care experience at a reasonable price! We build lifetime clients here and want you to tell everyone so make sure you get your referral credit. We are licensed and carry all proper insurances and feel free to ask for a reference to speak with at anytime.
Our Customers
We have provided top quality service to many residential, commercial and industrial customers. Below are just a few of the happy customers we have served:
• Ocala Sunoco Pit Stop
• War Horse Harley Davidson Ocala
• Harley Davidson in Homosassa
• Crystal Kubota in DeLand
• Crystal Tractor In Leesburg
• Crystal Ford In Crystal River
• South Ocala Animal Clinic
• Marion County Humane Society
• The Guest House Treatment Center Ocala
• Women's Pregnancy Center Ocala
• Center State Bank Ocala
• Muscle Meals 2 Go
• And Many More...
Feel free to contact us for more information or additional references. Thank you for considering A Accredited Restorations Inc. as your care service provider.
Free Estimate & Contact Form
We would be more than happy to discuss your project, advise you of costs involved, and provide you with valuable and practical advice. 
Simply give us a call at (352) 598-6007 or fill out the short form below and we'll be in touch with you right away
.
A Accredited Restorations is Insured for $1 million general liability. Copies of all paperwork are available upon request. Thank you for visiting our website, we look forward to working with you soon.
A Accredited Restorations proudly serves commercial and residential customers in the greater central Florida area including: Ocala, The Villages, Gainesville