Ocala Marble Floor Restoration
---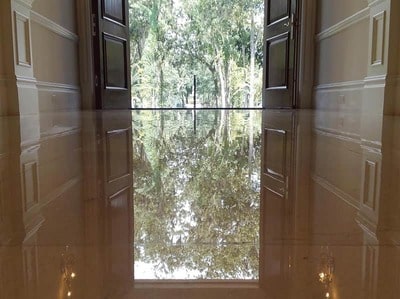 Ocala Marble Floor Restoration
Providing Ocala Marble Floor Restoration & Refinishing Services
---
Our specialized equipment combined with a full line of high quality finishing products gives you many options when it comes to the final appearance of your marble floor restoration project. Whether it be a natural look with protection, shiny wet look, or a polished lifetime finish we have you covered. If your marble floor is already in one of these conditions but just too dirty for you to scrub off, we can help you with that also. There is also a particular issue called "lippage" present with a lot of marble and travertine floors where there is a different of elevation between the edges of tiles. This condition destroys the desired final look and could be quite detrimental to your feet but is easily rectified by our system.
Certain stone floor designs use tiles with a considerable amount of natural pits and have grout joints that are very wide and deep. In this situation, most standard floor care companies do not use strong enough equipment to get it completely clean. We carry the highest power truck mounted equipment to handle these kind of problems. So this means you might pay about the same for a similar service with another company as ours but receive it with lower quality equipment, something to think about!
We make it easy to contact us for help with your marble floor restoration and other types of natural stone restoration so please let us know if we can help!
In the first four images below you can see the Marble floor before restoration. The floor has a haze and the lippage (one tile higher than the other) is very pronounced. You can also see the untouched area next to the grout lines when grinding first starts due to lippage.

In the next four images you can see the marble floor after grinding. All lippage is removed and the floor is completely flat. This is the only way to achieve a water like finish with marble. It must be completely flat. Our equipment polishes and flattens to within 1/8 of an inch to the wall, no other floor grinder or polisher can perform this.

Finally the remaining images illustrate the marble floor during the polishing steps. The client said "I want it to look like water", what do you think? This finish simply cannot be achieved at the factory. Our stone system is unmatched in the industry, we feature all Werkmaster polisher and grinder products.
| | |
| --- | --- |
| Pronounced Lippage | The Floor Has A Haze |
| Before Marble Floor Restoration | Before Marble Floor Refinishing |
| Grinding Lippage Away | Floor Completely Flat |
| During Marble Floor Grinding | After Marble Floor Grinding |
| Marble Floor Polishing Begins | Floor Coming Back To Life |
| Marble Floor Restoration Complete | Marble Floor Refinishing Complete |
| Marble Floor Polishing Complete | Marble Floor Cleaning Complete |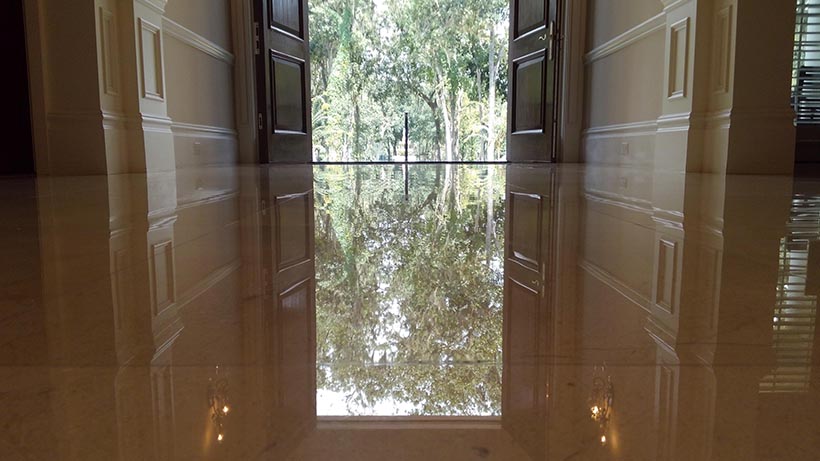 The client said "I want it to look like water", what do you think?
Free Estimate & Contact Form
We would be more than happy to discuss your project, advise you of costs involved, and provide you with valuable and practical advice. 
Simply give us a call at (352) 598-6007 or fill out the short form below and we'll be in touch with you right away
.
A Accredited Restorations is Insured for $1 million general liability. Copies of all paperwork are available upon request. Thank you for visiting our website, we look forward to working with you soon.
A Accredited Restorations proudly serves commercial and residential customers in the greater central Florida area including: Ocala, The Villages, Gainesville, and surrounding areas.