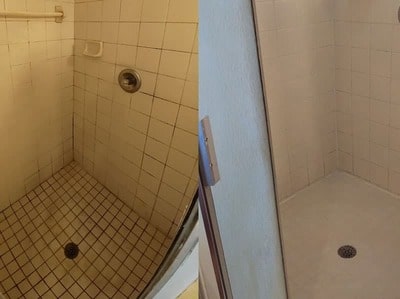 Shower Restoration & Cleaning
We also offer shower restoration and cleaning services.
---
Professional high pressure shower steam cleaning and restoration available through A Accredited Restorations Inc. Soap scum, mold, mildew, and hard water stains are some of the most ridiculous things to remove off the shower we have ever seen! Dong this by hand is next to impossible sometimes unless it has been maintained, so we use high pressure steam up to 2500 psi to assist with this. We use a mini version of our floor extractor to bring this capability in the shower and combining this with special chemicals, results are impressive! It is possible that grout is beyond restoration in the shower, so in these cases grout replacement is offered as a permanent solution. Call us at (352) 598-6007 for help or to schedule an appointment just click here!
| | |
| --- | --- |
| Before Cleaning & Refinishing | After Cleaning & Refinishing |
Free Estimate & Contact Form
We would be more than happy to discuss your project, advise you of costs involved, and provide you with valuable and practical advice. 
Simply give us a call at (352) 598-6007 or fill out the short form below and we'll be in touch with you right away
.
A Accredited Restorations is Insured for $1 million general liability. Copies of all paperwork are available upon request. Thank you for visiting our website, we look forward to working with you soon.
A Accredited Restorations proudly serves commercial and residential customers in the greater central Florida area including: Ocala, The Villages, Gainesville, and surrounding areas.