Ocala Concrete Resurfacing & Concrete Cleaning
---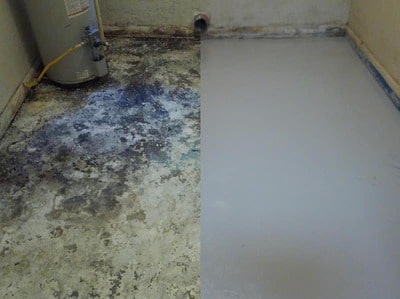 Ocala Concrete Resurfacing & Concrete Cleaning
Providing Ocala Concrete Resurfacing & Concrete Cleaning Services
---
Concrete floors are an area we find sometimes to be forgotten about when it comes to maintenance or especially restoring. Do you enter your home through the garage like most who have one do? Maybe the garage floor is the culprit in making the floors inside your home harder to clean or look the way they do. A Accredited Restorations Inc. is a company who specializes in all kinds of concrete resurfacing and concrete cleaning techniques including high pressure steam cleaning, concrete stain removal, concrete paints, sealer stains, epoxies, or even decorative polished concrete.
Something we are asked a lot is if we offer just the service of removing an old peeling, flaking or failing coating that has created a nasty eye sore or making it impossible to clean and yes we do! With no further commitment, we will even just help you properly clean and prepare it for the task you will complete on your own. Let us know what you decide and we will be glad to help!
Check out the before pictures below of heavily stained concrete and after concrete resurfacing with a ceramic based clear coat for color protection and easy maintenance. This is a low cost option for a clean easy to maintain area. Perfect for a rental property.
| | |
| --- | --- |
| Heavy Concrete Stains Before Cleaning & Resurfacing | After Concrete Cleaning, Repair & Concrete Resurfacing |
| Concrete Cleaned & Prepared For Concrete Resurfacing | After Ceramic Based Clear Coat Concrete Resurfacing |
Free Estimate & Contact Form
We would be more than happy to discuss your project, advise you of costs involved, and provide you with valuable and practical advice. 
Simply give us a call at (352) 598-6007 or fill out the short form below and we'll be in touch with you right away
.
A Accredited Restorations is Insured for $1 million general liability. Copies of all paperwork are available upon request. Thank you for visiting our website, we look forward to working with you soon.
A Accredited Restorations proudly serves commercial and residential customers in the greater central Florida area including: Ocala, The Villages, Gainesville, and surrounding areas.