Ocala VCT Vinyl Floor Cleaning, Stripping and Waxing
---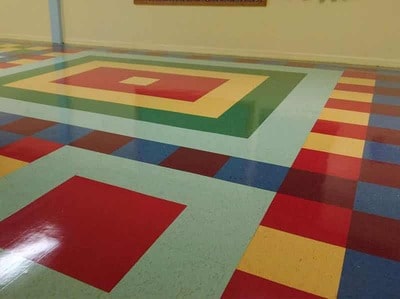 Ocala Vinyl Floor Cleaning, Stripping and Waxing
Providing Ocala Vinyl Floor Cleaning, Stripping and Waxing Services
---
Another service offered through A Accredited Restorations Inc. is resilient flooring cleaning, stripping and waxing or sealing. Resilient flooring comes in many types and some of the most commonly installed may be vinyl tile (VCT), linoleum, sheet vinyl, rubber, or even poured resins. We mention "or sealing" because we can also use other products besides wax to finish your floor. High end finishes are also available for resilient flooring. Certain products can even help turn your floor more non-resilient, meaning make it harder to last more like a ceramic tile. Some finish products we use are only available commercially and the manufacturer requires a floor contractor to be trained first by one of their factory representatives before use. This makes us unique, we have been trained and offer floor finishing products other companies do not.
Most vinyl stripping and waxing services are performed by individuals with just a floor scrubber, mop, bucket, and shop vac. This is a great recipe for leaving particles or even old finish on the floor. Here, we incorporate our high power restoration equipment as well, this results in a much more precise finish. Our attention to detail when it comes to preparation for a new finish is unmatched!
VCT or other types of resilient flooring can require a fair amount of maintenance, especially depending on the environment around it so keep in mind you have the option of letting us handle that as well. Being there is such an array of potential issues and conditions with vct tile and other resilient floor types, and options of refinishing, it's best to simply schedule an appointment so we can help you the best we can!
| | |
| --- | --- |
| Crystal Kubota Before Stripping and Waxing | Crystal Kubota After Stripping and Waxing |
| Ocala Pit Stop Vinyl Floor Reflective Finish | Ocala Sunoco Pit Stop Vinyl Floor Bleach White |
| Mirror Finish After Vinyl Floor Cleaning | Vinyl Floor Cleaning Complete |
| Future Stars Academy Daycare Beautiful Clean Vinyl Floor | Future Stars Academy Daycare Mirror Finish Vinyl Floor |
| After VCT Vinyl Floor Cleaning Process | Muscle Meals 2 Go VCT Vinyl Floor Cleaning |
Free Estimate & Contact Form
We would be more than happy to discuss your project, advise you of costs involved, and provide you with valuable and practical advice. 
Simply give us a call at (352) 598-6007 or fill out the short form below and we'll be in touch with you right away
.
A Accredited Restorations is Insured for $1 million general liability. Copies of all paperwork are available upon request. Thank you for visiting our website, we look forward to working with you soon.
A Accredited Restorations proudly serves commercial and residential customers in the greater central Florida area including: Ocala, The Villages, Gainesville, and surrounding areas.