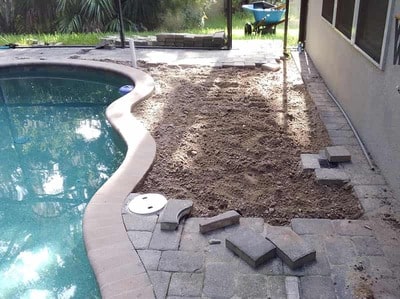 Ocala Paver Repair
Providing Ocala Paver Repair and Paver Restoration Services
---
Your pavers may be shifting or loosing footing, growing weeds, or may have even completely changed colors. It doesn't matter to us - we can handle it! We offer re-installation repairs and re-sanding as well since this is needed to offer a complete restoration package. Did you know certain types of sand used to lock in your pavers to help prevent insect migration and weed growth in the joints leaves a tough film behind if not properly removed will conflict with sealing them? A big problem since most installation contractors go right from installing to selling you on sealing unaware of how much it could cost you to rectify the problem in the future.
In the example below the pavers were removed to allow new plumbing to be installed. Once the plumbing was completed the footing material is compacted and leveled with the existing pavers. Once the pavers are reinstalled they can be cleaned and sealed. We also use a special type of sand to lock the pavers in place and to prevent prevent insect migration and weed growth.
We understand your pavers were a big investment and it's important to have all your questions answered so please give us a call at (352) 598-6007 or fill out the simple online contact form for further assistance!
| | |
| --- | --- |
| Paver removal for plumbing installation | Paver repair and restoration in progress |
| Pavers installed and joint sand added | Paver repair and restoration complete |
Free Estimate & Contact Form
We would be more than happy to discuss your project, advise you of costs involved, and provide you with valuable and practical advice. 
Simply give us a call at (352) 598-6007 or fill out the short form below and we'll be in touch with you right away
.
A Accredited Restorations is Insured for $1 million general liability. Copies of all paperwork are available upon request. Thank you for visiting our website, we look forward to working with you soon.
A Accredited Restorations proudly serves commercial and residential customers in the greater central Florida area including: Ocala, The Villages, Gainesville, and surrounding areas.