Paver Cleaning & Sealing Examples
---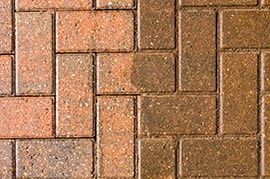 Ocala Paver Cleaning & Sealing Examples
See Our Paver Cleaning, Paver Sealing and Paver Color Enhancement Application Examples
---
Immediately following the installation of pavers, it is highly recommended to have them professionally cleaned and protected. Unlike ceramic or most porcelain tile in your house which has a hardened protective finish baked on from the factory, pavers are highly porous and subject to staining or discoloration very easily. Leaving them unprotected could result in a condition resolved only by replacement. The two practiced ways of performing this are either the use of a penetrating sealer or a top coat sealer.
A properly installed and maintained paver driveway, walkway, or patio is one thing that can add a tremendous amount of curb appeal and value to your property. On the other hand, pavers not properly maintained will be a bigger eye sore than you expected. Most companies who install pavers do not actually carry the equipment necessary to properly maintain them, quite frankly it's a different service all together. This is why here at A Accredited Restorations we feel it makes more sense to deal with a company who meets your specific needs.
A Accredited Restorations Inc. offers you any form of protection for your pavers so please give us a call at (352) 598-6007 for your free estimate!
Check out some of our recent & local paver cleaning and paver sealing projects including this paver sealing and color enhancement without slippery wet look application in progress:
| | |
| --- | --- |
| Before Paver Cleanings | Paver sealing in progress |
Free Estimate & Contact Form
We would be more than happy to discuss your project, advise you of costs involved, and provide you with valuable and practical advice. 
Simply give us a call at (352) 598-6007 or fill out the short form below and we'll be in touch with you right away
.
A Accredited Restorations is Insured for $1 million general liability. Copies of all paperwork are available upon request. Thank you for visiting our website, we look forward to working with you soon.
A Accredited Restorations proudly serves commercial and residential customers in the greater central Florida area including: Ocala, The Villages, Gainesville, and surrounding areas.