Ocala Roof Steam Cleaning
---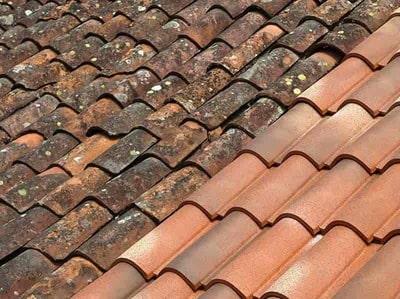 Ocala Roof Steam Cleaning
Providing Ocala Roof Steam Cleaning Services
---
If you are reading this, chances are either yourself or someone else (e.g., neighborhood association or neighbor) has noticed the black streaks or stains on your roof. Once you "notice" this, it is quite unpleasant to look at but more importantly it's actually bad for your roof. Most likely you have asphault shingles up there and the black color is something called Gloeocapsa Magma which is an algae feeding on the roof. We won't bore you with a bunch of technical stuff because you can just Google it and you're an expert like everyone else so we will move on to what you want to hear!
You can research for days and you will see everyone claims to have the best system for removing those black stains and streaks. Some spray a chemical and wash off with a hose and say using pressure is no good because it voids warranties and will blow off your granuals. Others who believe in low pressure power washing may say otherwise. We approach it differently than both.
What we do is a sort of combination of the two with a little additive of steam. First we spray sections at a time with a chemical safe for asphault shingles, then starting at the top we rinse down using a surface extractor powered by steam to restore the original color. The heat just lifts the film and rinses it away, it's really that easy and it's perfectly safe. Water pressure is not what's doing the work so granual loss is something of the past. And if you think your roof isn't designed to take the heat, you've never been up there in the summer.
We can say a few things for sure and one is that some roofs can be sprayed and hosed off and will look about new and some you can't come close to cleaning that way. Another is, the way we have cleaned countless roofs for years now has never come close to blowing off shingles or granuals and is completely safe. The way we do it just works, all the time, no matter the condition!
| | |
| --- | --- |
| Dirty Roof Before Cleaning | Roof Cleaning Completed |
| Dirty Concrete TIle Before Cleaning | Cleaning Completed |
| Dirty Roof Before Cleaning | Like New Concrete Tiles |
| Dirty Roof Before Cleaning | Cleaning While In Process |
| Beautiful Nice Clean Roof | After Roof Steam Cleaning |
Free Estimate & Contact Form
We would be more than happy to discuss your project, advise you of costs involved, and provide you with valuable and practical advice. 
Simply give us a call at (352) 598-6007 or fill out the short form below and we'll be in touch with you right away
.
A Accredited Restorations is Insured for $1 million general liability. Copies of all paperwork are available upon request. Thank you for visiting our website, we look forward to working with you soon.
A Accredited Restorations proudly serves commercial and residential customers in the greater central Florida area including: Ocala, The Villages, Gainesville, and surrounding areas.