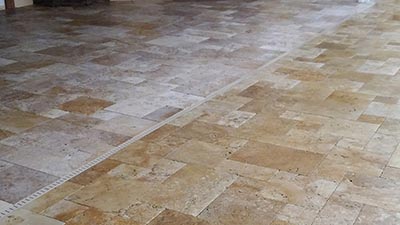 Ocala Travertine Sealing
Providing Ocala Travertine Sealing Services
---
In this travertine sealing pool deck project example we are using special travertine sealing products available to enrich color without creating a heavy build on the stone. Diamond burnishing for natural stones like travertine is also an affordable option compared to fully involved restoration services. Our 4-stage process uses special diamond infused pads to bring back to life foggy and dull natural stone floors. Whether it be a natural look with protection, shiny wet look, or a polished lifetime finish we have you covered. If your marble floor is already in one of these conditions but just too dirty for you to scrub off, we can help you with that also. Our specialized equipment combined with a full line of high quality finishing products gives you many options when it comes to the final appearance of your marble floor restoration project.
We make it easy to contact us for help with your marble floor restoration and other types of natural stone restoration so please let us know if we can help!
| | |
| --- | --- |
| Before Travertine Pool Deck Sealing | After Travertine Pool Deck Sealing |
| Travertine Sealing In Progress | Travertine Pool Deck Sealing Complete |
Free Estimate & Contact Form
We would be more than happy to discuss your project, advise you of costs involved, and provide you with valuable and practical advice. 
Simply give us a call at (352) 598-6007 or fill out the short form below and we'll be in touch with you right away
.
A Accredited Restorations is Insured for $1 million general liability. Copies of all paperwork are available upon request. Thank you for visiting our website, we look forward to working with you soon.
A Accredited Restorations proudly serves commercial and residential customers in the greater central Florida area including: Ocala, The Villages, Gainesville, and surrounding areas.