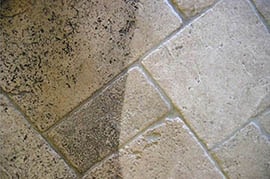 Tile Cleaning Examples
See Our Tile Cleaning Example Before / After
---
The equipment we use offers us the ability to perform simple maintenance cleaning through full restoration services. This is very important considering the lack of proper maintenance or use of improper cleaning agents are resulting in more floors actually requiring higher power cleaning. Most companies who offer tile and grout cleaning services use the same machine for cleaning carpet, they just change the attachment that comes in the house. The problem is, most carpet machines have a limited water pressure and heat system allowing for maximum pressures of 1200 psi which for hard floors like tile, is not enough. And high temperatures needed to assist with cleaning simply cannot be achieved with their water at these levels. We can generate up to 3000 psi at 225 degrees allowing for a more thorough cleaning with better results guaranteed.
Finally, doesn't it make sense to have a floor service provider that gives you more options. We have been in the business of tackling heavy duty coating removal and surface preparation for 10 years so there is no tile cleaning or restoration job we can't handle! Every job is case specific based off of size and type of substrate so please do not hesitate to call us. This is a company that offers you the highest power of cleaning just in case!
Below are some pictures of Tile Cleaning where you can see the difference after cleaning:
| | |
| --- | --- |
| Tile Steam Cleaning In Process | See The Difference After Tile Cleaning |
Free Estimate & Contact Form
We would be more than happy to discuss your project, advise you of costs involved, and provide you with valuable and practical advice. 
Simply give us a call at (352) 598-6007 or fill out the short form below and we'll be in touch with you right away
.
A Accredited Restorations is Insured for $1 million general liability. Copies of all paperwork are available upon request. Thank you for visiting our website, we look forward to working with you soon.
A Accredited Restorations proudly serves commercial and residential customers in the greater central Florida area including: Ocala, The Villages, Gainesville, and surrounding areas.