Ocala Tile Steam Cleaning
---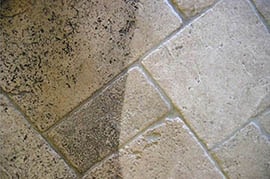 Ocala Tile Steam Cleaning Example
Providing Ocala Tile Steam Cleaning, Grout Cleaning, Grout Sealing and Tile Restoration Services
---
We want you to know that all tile floors cannot be treated equal and this is due to a variety of factors. Some could be (1) type of product installed, (2) length of time unclean, (3) coatings previously applied, or even (4) size of grout lines. The grout is quite porous and is what usually gets stained whilst holding very tight to built up grime and odor and is usually the hardest part to clean, not the tile. Trust us with the proper skills and experience to get the job done properly and in a timely manner.
You can rest assured knowing the equipment we use offers us the ability to perform simple maintenance cleaning through full restoration services. Doesn't it make sense to have a floor service provider that gives you more options? We have been in the business of tackling heavy duty coating removal and surface preparation for 10 years so there is no tile cleaning or restoration job we can't handle! We offer residential and commercial tile steam cleaning services to many homeowners and businesses. Every job is case specific based off of size and type of substrate so please do not hesitate to call us.
In the example below you can see that the grout is heavily stained and the tile is very dirty. After our tile steam cleaning process the tile looks almost new. Once cleaned, we also recommend grout and tile sealing to further protect the floor.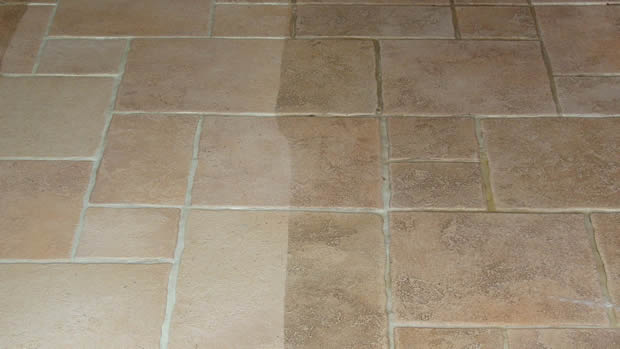 Dramatic difference in the grout and on the tile after tile steam cleaning is performed


Free Estimate & Contact Form
We would be more than happy to discuss your project, advise you of costs involved, and provide you with valuable and practical advice. 
Simply give us a call at (352) 598-6007 or fill out the short form below and we'll be in touch with you right away
.
A Accredited Restorations is Insured for $1 million general liability. Copies of all paperwork are available upon request. Thank you for visiting our website, we look forward to working with you soon.
A Accredited Restorations proudly serves commercial and residential customers in the greater central Florida area including: Ocala, The Villages, Gainesville, and surrounding areas.