Ocala Tile Cleaning Services
---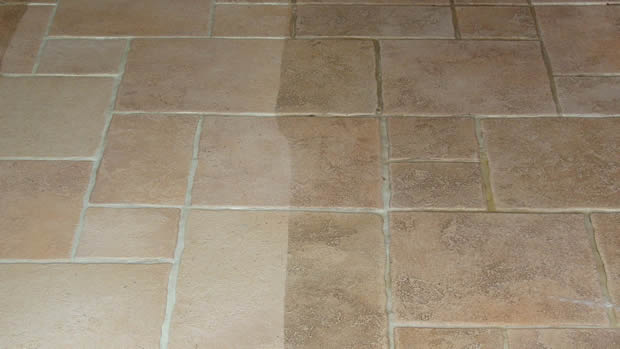 Ocala Tile Cleaning Services
Providing Ocala Tile Cleaning Services
---
We have been cleaning tile for over a decade. We have the tools and the expertise to get your tile and grout looking as good as possible. Our tools are superoir to the competition and we can generate up to 3000 psi at 225 degrees allowing for a more thorough cleaning with better results guaranteed. Trust us with the proper skills and experience to get the job done properly and in a timely manner. Don't forget to challenge us, we'll demo your worst spot when you schedule your free appointment!
Once your tile or stone floor has been completely restored, you can seal the grout or in some cases the tile as well. Grout can always be sealed, however, that is not the case when it comes to your tile. Putting a sealer on a tile that does not require it can cause a major problem shortly down the road. We have often encountered sealers or finishes failing as a result of being applied to something it shouldn't have. Most tiles installed residentially and commercially have an enamel baked on it from the factory at the finishing stage so there is no need for any type of sealer. We can advise you on the best options for your particular situation.
We have been in the business of tackling heavy duty coating removal and surface preparation for over 10 years so there is no tile cleaning or restoration job we can't handle! Every job is case specific based off of size and type of substrate so please do not hesitate to call us. This is a company that offers you the highest power of cleaning just in case!
| | |
| --- | --- |
| Tile Seam Cleaning In Process | Tile Sealing In Process |
Free Estimate & Contact Form
We would be more than happy to discuss your project, advise you of costs involved, and provide you with valuable and practical advice. 
Simply give us a call at (352) 598-6007 or fill out the short form below and we'll be in touch with you right away
.
A Accredited Restorations is Insured for $1 million general liability. Copies of all paperwork are available upon request. Thank you for visiting our website, we look forward to working with you soon.
A Accredited Restorations proudly serves commercial and residential customers in the greater central Florida area including: Ocala, The Villages, Gainesville, and surrounding areas.