Learn About Polished Concrete
---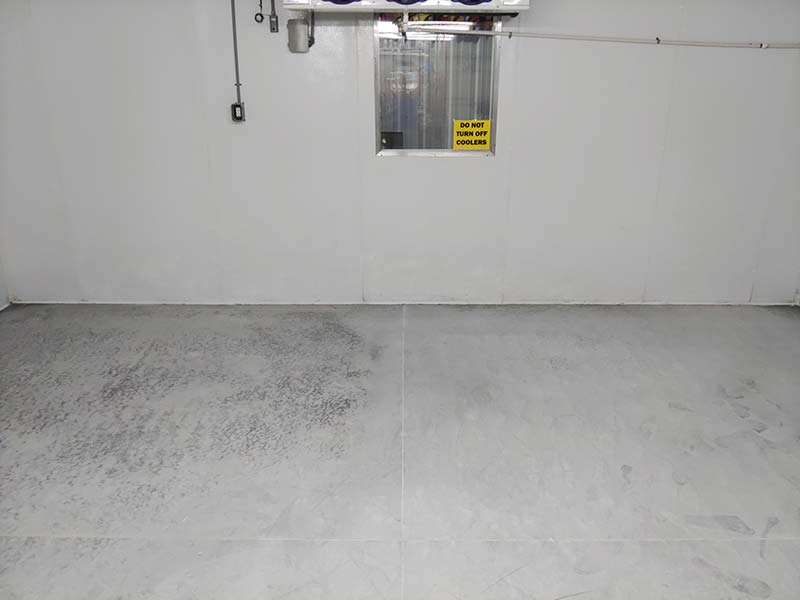 Learn About The Concrete Polishing Process
We want you to know what you're supposed to have. The photo shows a concrete slab in our preliminary stages of heavy grinding, the most important part of the project! Have you ever seen bad body work on a shiny car? Well it's no different on a floor, you're going to see every imperfection once the shine hits. So when you're looking into polished concrete if you buy on set price, time or what they call "passes" you're going to suffer the consequences.
---
The grid on the left shows significantly more gray areas than the grid on the right, these are low spots in the concrete. When left behind these will produce dull spots and a wavy floor with squiggly reflections all over the place which are unfortunately acceptable results by most but not the way it's supposed to be.
The grid on the right has much more to go but you can see the difference plainly versus the left. We spend the time it takes to produce better work. How do you know in two "passes" or 8 hours if the floor is ready to proceed? This is where you get a poor return on your money. We strive for perfection because if you can do better why not? This produces the highest quality work hands down.
Give us a call at (352) 598-6007 anytime for more information on this service or to set up your free appointment.
| | |
| --- | --- |
| Stages Of Concrete Polishing | |
Free Estimate & Contact Form
We would be more than happy to discuss your project, advise you of costs involved, and provide you with valuable and practical advice. 
Simply give us a call at (352) 598-6007 or fill out the short form below and we'll be in touch with you right away
.
A Accredited Restorations is Insured for $1 million general liability. Copies of all paperwork are available upon request. Thank you for visiting our website, we look forward to working with you soon.
A Accredited Restorations proudly serves commercial and residential customers in the greater central Florida area including: Ocala, The Villages, Gainesville, and surrounding areas.