c
Wood Floor Restoration Dont's
---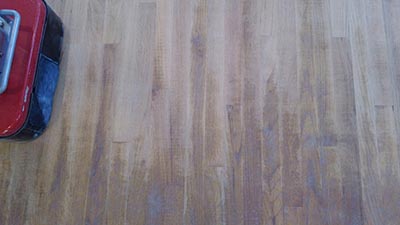 Wood Floor Restoration: What NOT to do
Ocala Wood Floor Restoration & Repair Example Problems
---
The photos below illustrate what a drum sander does to the surface of a wood floor. You can see what is called chatter marks in one photo which are small tightly spaced lines perpendicular to the grain. These are unavoidable no matter how skilled the user of a drum sander. They are produced by the resistance of the wood against the sander causing it to sand up and down on the surface. This happens because the drum on the machine holding the sandpaper is above the wood rotating down at it instead of rubbing across it. And depending on your choice of a finish product, they can be visible in the end.
In another photo you can see what is called a stall mark, a dark channel matching on each board a few inches from the wall. This is where the user of a drum sander stopped moving the machine before lifting the drum from the floor. This creates valleys in the floor which you can see once shiny.
Our equipment is designed completely different than a drum sander therefore these unfortunate conditions will not be present in any of our fully restored wood floors.
As with other flooring types, A Accredited Restorations Inc. offers you access to multiple high quality finish options for your wood floor restoration. Low sheen through high gloss options and even special high end ceramic fortified clear-coats not offered through other floor maintenance or restoration contractors are available. For more information just give us a call at (352) 598-6007 or request a free online quote to get started!
| | |
| --- | --- |
| Chatter Marks | Stall Marks |
Free Estimate & Contact Form
We would be more than happy to discuss your project, advise you of costs involved, and provide you with valuable and practical advice. 
Simply give us a call at (352) 598-6007 or fill out the short form below and we'll be in touch with you right away
.
A Accredited Restorations is Insured for $1 million general liability. Copies of all paperwork are available upon request. Thank you for visiting our website, we look forward to working with you soon.
A Accredited Restorations proudly serves commercial and residential customers in the greater central Florida area including: Ocala, The Villages, Gainesville, and surrounding areas.